This latest leak can be added to the others which have made their way into the public domain via various sources, and gives us a glimpse of what we can expect visually from the S8, presumably based on official internal Samsung designs.



The embedded display will offer a 18:9 ratio, take up the majority of the front of the device, and will be capped at each corner with rounded edges, similar to the approach taken by LG with the recently announced G6. This is not only for aesthetics, but to also improve durability and extend the life of the display. The display also wraps around both sides of the device, similar to what Samsung already offers with the Edge-branded devices.

The visual leak clearly shows that the hardware will present itself with the usual Power and Volume Up and Down buttons on the side. However, there's also the addition of a new button which we can only presume is the dedicated hardware button to invoke the new Bixby AI experience which forms part of the appeal of the new Galaxy S8.

Very much like Apple is expected to do with the iPhone 8, Samsung has also removed the physical Home button from the device, with the hardware utilizing the typical on-screen Android navigation bar.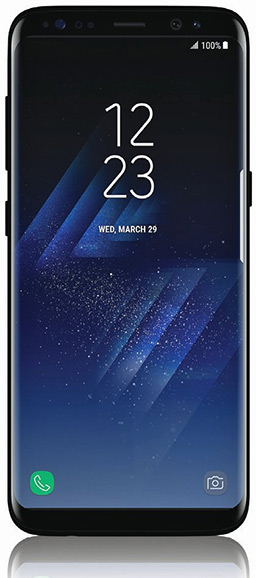 The front of the device is finished off with the inclusion of what appears to be five individual sensors across the top of the phone. There's no official information being provided on what those five sensors are actually tasked with, but it's fairly reasonable to assume that we at least have an ambient light sensor, and probably an iris scanner in that lineup in addition to the speaker grill and front-facing camera.

With the outer-design of the Galaxy S8 and S8+ more or less pretty much confirmed, we shall have to wait for the official launch event on the 29th of March in New York to get further details on its specs and possibly surprise-features.