Nov 12, 2016
407
245
Skype

muzammal.mudassar
Sonork ID

100.1648344
Club M300 Only Read Code Done With Great AVB
Code:
ACTION: Read Password
SELECTED: SC6531
EXE: Avengers Spreadtrum Module 0.4
Start Detect phone.
Remove the battery and connect handset to PC via USB cable.
After long press boot key while inserting the battery.
Keep key untill boot complete.
Detected: SCI USB2Serial (COM7)
Sending loader, keep boot key untill loader start.
Loader OK: nckTeam(2016) Beta 0.3
CPU: 6531
FlashId: GigaDevice: [0x400000]GD25LQ32B
Reading Flash Info, wait...
Flash Size: $400000 Sector Size: $8000
IMEI 1: 862893004112269
IMEI 2: 862893004112277
[46E]Password: 4321  Inactive
[21D]Password: 4321
[46F]Password: 4321
Total Time: 00:00:25
Done.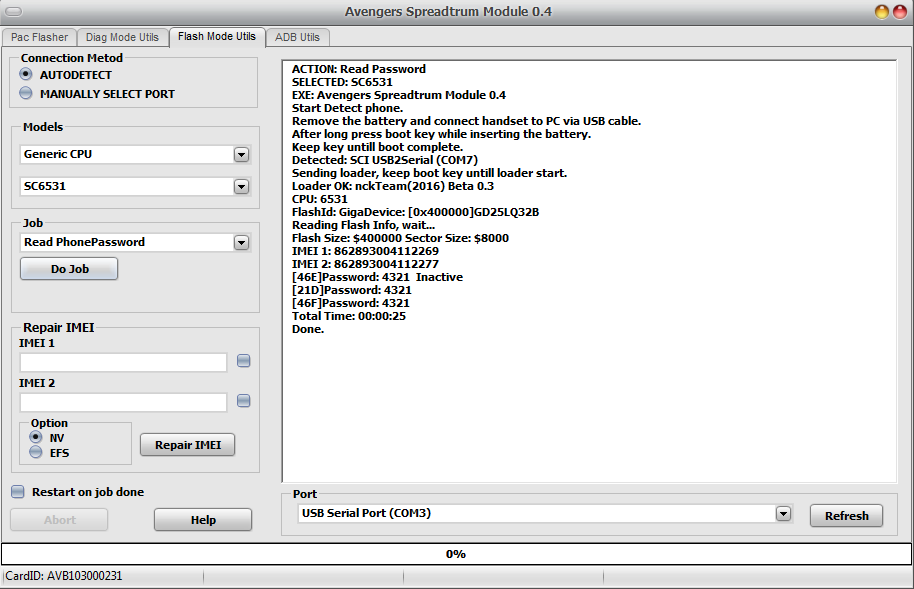 __________
Regards
Avengers Box